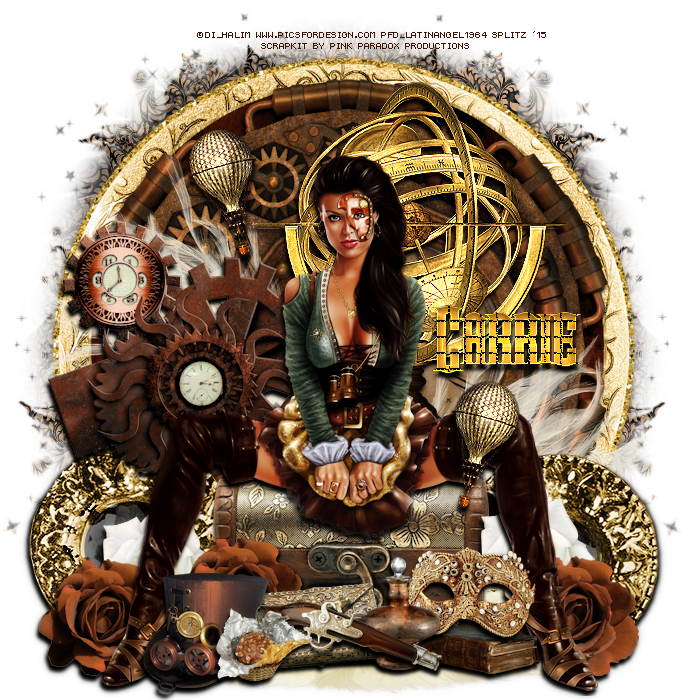 I am using PSP X6 to create this tag but any other version will work!
Fabulous kit by Pink Paradox Productions named Elegant Steampunk
Awesome work of Di_halim available
HERE
FTU Font SteamWreck
Filters
Cybia - Screenworks
On Name
Here we go!
Open new image 700x700. I resized my tube choice by 55 c/p onto center of canvas. I am using 2 Frames 16 and 17. Frame 16 resize by 50 c/p and place behind tube, like she is sitting on the bottom edge. take Frame 17 resize by 60 and place behind Frame 16. l 43 Trunk resize by 40 c.p and place underneath tube, make sure it is behind tube layer. El 52 Gun resize by 25 c/p and place to the bottom middle of Tube. Take the following Elements 24, 25, 26, 29, 30, and 66, resize all by 20 and place them accordingly at the bottom in front of tube layer. El 134 Brown Flower and El 136 white Flower, resize by 20, take Brown flower, c/p and place to wards bottom left behind Hat, duplicate layer and move that layer towards left behind tube layer. Take El 136 White Flower and place behind second layer of Brown Rose towards left behind tube layer. Take El 134 Deco, c/p and place to far left behind White Flower. Duplicate the Brown and White Flower and also El 134 Deco and place to lower right side. El 72 Globe resize by 60 c/p and place inside Frame to the right. Add a Drop Shadow then Inner Bevel with color #ece8d9 then Enhance Edges. El 84 Balloon, resize by 15 then free rotate right 15. C.p and place to top left and follow same Effects as we did for Globe. Duplicate El Balloon, flip horizontal and place by Tube to the right. El 102 Clogs resize by 40 c/p and place to left side over Frame. El 105 resize by 60 and place over Frame but behind El 102. If you are happy with your tag great. Add your Drop Shadows. I added El 52 the Feather as my finishing touch. Merge your tag! Duplucate tag, adjust gaussian blur 3.0 properties softlight and lower opacity!.
Add Your mask I did Paper 51 for mine, duplicated twice. Merge Visible again.
Add your name, copy write and license info
save as PNG!
Thanks for looking!