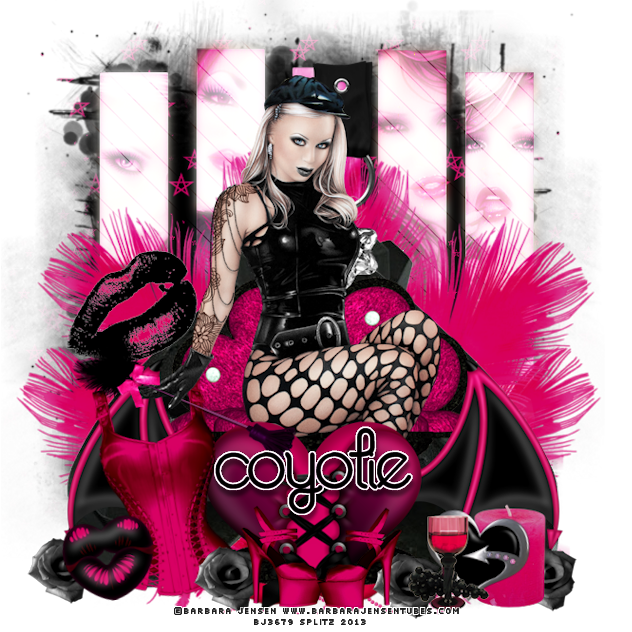 I used PSP X 6 to create my tag but any other veriosn will work
Scrapkit is a Naughty Cute kit by Coyotie Designs named Bad Romance and you can get that
HERE
Tube is from the fabulous Barbara Jensen and you can get that
HERE
Filters
Penta - Jeans
Xero Radiance
Mask is by Rocked by Rachel
HERE
FTU Font Zebra
Slats were created by Me
HERE WE GO!!
Open Image 700 x 700
C/P and place your tube of choice unto the center the of your canvas
Take Preset Tool
Rectangle - Background Black Foreground Null
and make 5 slats
(see tag for reference)
Click on one of the slats
Selections All - Float - De Float
and C/P a close up of your tube
Selections - Invert - Delete
Select None
Do this step for the other Slats
Merge Down your Slats name this layer SLATS
Selections All - Float - De Float C/P Paper 1
Selections Invert Delete
Then
Merge Down the TUBE layers
Duplicate
On your Tube copy layer
Adjust - Blur - Gaussain Blur 6
Properties Screen
Effects
Penta - Jeans - Amount 68 Border Width 38
On Original Tube Layer
Properties Luminance
EL Feather Rose - C/P and place to the left. I duplicated this layer 3 more times and placed behind to make a frame
Merge Down the Feather Rose Layers
(see tag for reference)
El Heart Couch - Resize to 60
C/P and place at the center, place your tube on the couch
EL Wrist Cuff - Resize larger to 105 place right behind your tube
I used the following elements to place at the of my tag
Corset
FeatherWhip
Chrome Heart
Heart Lips 1
Jewel Dangle
Kiss 1
Stiletto
El Candle
EL Wine and Grapes
If your happy with your tag Great!
Merge Visible, Add your mask of Choice Name and CR info!
I added a little Radiance!
Merge as PNG and you are done!