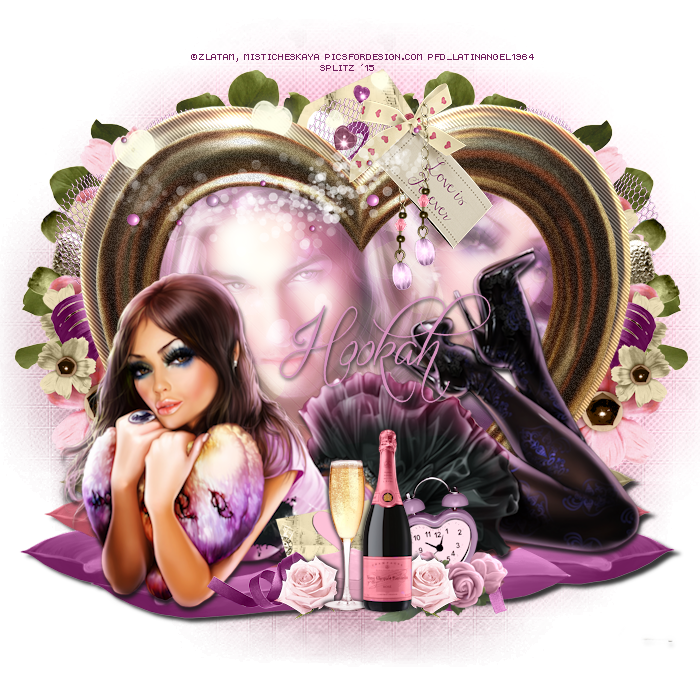 Just in time for Valentine's Day! A pretty and playful NEW Scrap Kit by Jackie's Jewels named Flirtacious!
Wonderful work of Zlata and Misticheskaya. You need a license to use their art and you can get both HERE
Texture is by Vix HERE
Filters
DSB Flux - Bright Noise
Penta - Jeans
Font
Quickier Demo
Mask is by WSL # 62 HERE
Don't Forget your Drop Shadows!
HERE WE GO!
Open image 700 x 700, c/p tube of choice onto your canvas
El Heart Frame c/p behind tube . Go to Effects -Penta - Jeans
Settings 62 and 4 click ok. Now resize Frame
to 90 c/p and place behind tube. Go to Effects-DSB Flux Bright Noise - Darker 17
Magic Wand, click inside smaller frame, expand by 6 c/p your texture of choice. I used one by Vix and changed the color. You can do this by going to Adjust-Hue/Saturation
Hue: 214 Saturation: 114
c/p and place inside frame Selections-Invert-Delete...KEEP SELECTED...now c/p tube of choice place inside frame, HIT DELETE.-deselect if you are not using another tube.
Still working with inside your frame, Duplicate tube, on Copy Gaussian Blur 6.0 Properties - Screen, On Original Properties - Luminance.
El 35 Pillows. Resize to 60. c/p and place underneath tube. Duplicate this layer 3 times and spread layers at the bottom(see tag for reference) and add your drop shadow
El 9 Envelope resize to 30 c/p and place in front of tube to the center. El 17 Pink Roses resize to 30 c/p and place to the right bottom . El 54 Glass c/p and place to the center El 53 Bottle resize to 50 c/p and place next to El 54 Glass. El 23 Pink Rose resize to 20 c/p and place next to bottle, duplicate flip horizontal and place to the other side. . El 46 "Love Is" bow resize to 50 c/p to the top right of Frame. El 45 Clock resize to 30 c/p and place to the bottom behind Rose
For behind the Frame i used the following Elements
13, 16, 28, 71, and 72
but there are so many beautiful elements in this kit you can use whichever ones. Resize you elements accordingly. I worked on the left side of the frame first. Then I merged downed these elements, duplicate, flip horizontal and placed to the right!
I added the Scatters for Accent.
On your main tube layer Duplicate. On your copy Gaussian Blur, Properties Soft Light Opacity 61
If you are happy with your tag great!
Merge Visible!
Add your name, copywrite and license info
Save as PNG!
Thanks for looking!