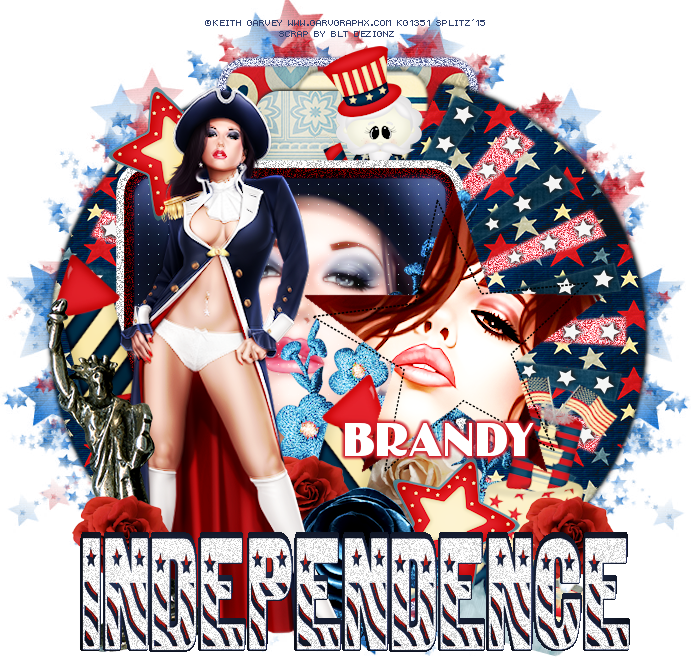 I am using an adorable kit by BLT Dezignz named American Pride.
you can get her kits HERE
Using the awesome work of Keith Garvey - You need a license to use his work and you can get both HERE
Mask is by Dee. I am using one of her Star Mask #2 HERE. Template also by Dee. I am using Indepedence HERE
FTU Font Asuska Caps
Filters
Zero Radiance
Penta Color Dot
DSB Flux - Bright Noise
Don Not Forget Your Drop Shadows
Here We Go!
Open template, duplicate close off original, delete credits. c/p tube of choice and place towards left side of template. you can close off your tube layer for now. Everyone has their way of working with templates, this is my way that I learned, you may have an easier one..lol...so do what works for you! Also delete Template layers as you finish working with them that way you do no have so many layers..
1. For the 2 Fan Shape layers, magic wand, click on shape c/p Paper 5, Selections, Invert Hit delete, Deselect. Go to Effects - Vanderlee Unplugged with these settings
1,50, 50, 10, 50
Transparency: 49
HUE
2. For the left dark blue strips repeat same steps as above this time using Paper 19 - Go to Effects: DSB Flux - Bright Noise Light 100
3. Left White Stars leave as is just add Drop Shadow
4. For the light blue strip players follow above steps using paper 10
5. Now Follow the same above steps with the right side strip layers
layers with the same Papers.
6. Middle dark blue strip - same steps as above using Paper 1 Add Drop Shadow
7. Middle white strip - same steps as above using Paper 4 Add Drop Shadow
8. Middle light blue strip - same steps as above using Paper 2 - Add Drop Shadow
9. White middle Square - DSB Flux Bright Noise - Mixed 100
10. Middle red square - Adjust - Hue Saturation - Hue 0, Sat: 237
Bright Noise Darker 100
11. Delete middle red circle.
12. Middle blue square - Take magic wand, feather 1 click on square, take close up of your tube, c/p selections invert delete deselect. Duplicate on copy guassian blur 3.0 properties screen on original layer overlay go to Effects - Penta Color Dot settings:
230, 10, 1250, 250, 250
13. On Star layer, i chose another closeup, Follow steps as in 12 except do not duplicate yet. Go to Photo Effect - Vivid Filter Color #8a0000
Duplicate on copy go to Properties: Screen.
14. WA - Be as creative as you want!
I used the following elements to decorate my tag:
Flower 1, Cake, Flower 3 and 5, Star Liberty and Uncle Sam1. be as creative as you want or you can use my tag as reference. If you are happy with your tag Merge Visible. I added a touch of radiance to my merged tag. Add your mask I am using paper 19 for mine, duplicated mask twice and changed the colors on two layers by going to Adjust-Hue-Saturation.
Add you name, CR and License info.
Save as PNG!
Thanks for looking!