I am using a Fabby scrapkit by TK Designs available
HERE
Awesome work of Keith Garvey. You need a license to use his work and you can get both
HERE
Lovely mask by Trese #112
Font is FTU Zebra
Filters
Xenofex 2 - COnstellation
Vanderlee unplugged - Spotlight
Dont forget your drop shadows HERE WE GO!
Open new image 700 x 700,flood fill White if you are going to animate, c/p tube of choice onto your canvas. I am using 2. Add a drop shadow. Merge Visible if using 2 tubes. Duplicate tube layer, Guassian Blue 6.0 on copy Properties Overlay lower opacity to 63. Merge Visible again. El Pink Glitter Flip Horizontal, c/p and place behind tubes alittle towards top left. El Black Glitter c/p and place towards middle in front of Pink Glitter. El Pink Glitter again flip horizontal c/p and place towards bottom in front of Black Glitter. El Flower resize larger to 115 c/p and place towards top right behind tube, duplicate this layer and bring it to lower left behind tubes. El Tickettorn resize to 70 Free Rotate 15.0 right c/p and place towards bottom right in front of tubes. El Censored resize to 30 free rotate right 15 c/p and place towards top left. El ribbon XXX Charm resize to 30 Enhance Edges, c/p and place over top of Censored button. El Stripper Pole resize to 40 c/p and place towards Right behind tube add drop shadow. El large XX charm resize to 50 c/p and place behind top right flower. El Censor Bow resize to 50 c/p and place on Stripper pole, Last El Peepshow Sign resize to 80 c/p and place towards bottom front of tubes. I also took El Flower resized to 30 and scatter them around tag.
On you Peepshow Sign layer - go to Vanderlee Unplugged
Spotlight\using settings below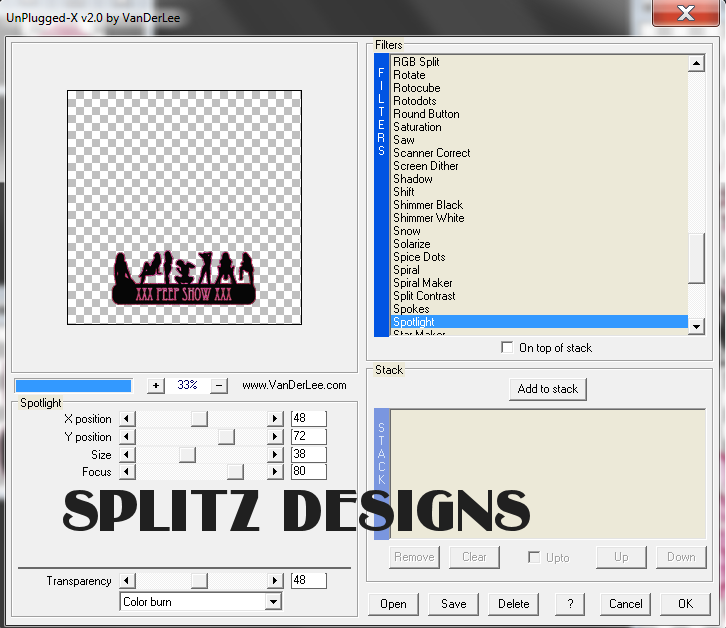 If you are not going to animate then Merge Visible your tag.
Add Xero Radiance with these settings:
128, 50 128, 203
Add Mask, Name, Cr and License info
Save as PNG
To Animate:
Take your magic wand
Tolerance:2
Feather: 3
Anti Alias Checked
Select the Jewelry on tube, I also selected the X's on bow. Duplicate tag layer TWICE, close off top to layers. On First layer go to Effects: Xenofex: Constellation with these setting:
You can always play around with the settings, have fun with it. Once you are happy, click ok, deselect
Copy tag to AS, paste as New Animation
Go back to PSP
Close off first tag layer, open second tag layer
Go back to Constellation, HIT Randon Seed, deselect
Copy to AS behind current frame. Repeat this step for 3rd Tag Layer.
If you are happy with your animation Awesome!
I Changed my frame properties to 20
Save as Gif
Thanks for looking!