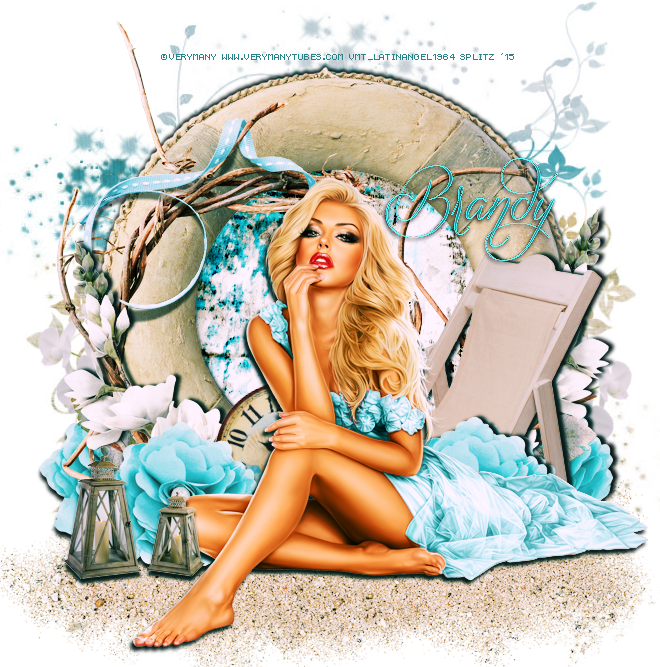 I Used PSP X6 to create this tag.
I am using a gorgeous kit by BLT Dezigns named Salt Life - Available
HERE
for purchase.
Using the lovely art of Verymany. You need a license to use her work and you can get both
HERE
The mask I used I have had for some time and I dont remember where I got it from. It is MC #6. If this is your mask please let me know so I can give proper credit.
Font is FTU Quickier Demo
No outside filters used
Do Not Forget Your Drop Shadows
HERE WE GO!
Open new image 700 x 700. resize tube by 47, c/p onto canvas. El Buoy resize by 45 c/p place behind tube. El Sand resize by 20 c/pp and place underneath tube. El Flower 5 resize by 10 c/p and place towards bottom right side of Buoy, duplicate the layer and place behind right side of Buoy, repeat this same step for left side. Flower 1 resize by 5 c/p and place left side behind Buoy, duplicate flip horizontal and place to the right behind Buoy. El Flower 6 resize by 5 and repeat above steps for this Element. El CLock resize by 15 free rotate left 15, c/p and place to the bottom left by tube. El FLower 8 resize by 25 Rotate Left, c/p and place to the left side of Frame duplicate flip horizontal and place to the right side of Buoy behind Chair. El Chair resize by 12 c/p and place to the right of Buoy behind Flower. El Vines resize by 20 c/p and place in front ob Buoy towards Left. Ribbin 2 resize by 20 c/p and place to the top in front of Vines, Duplicate Ribbon layer, move that layer to the back of Vines. Take your eraser tool round 5. go to the FIRST Ribbon layer and just erase a little bit of the top Ribbon to make it look like it is over the Vines. El Lantern resize by 15 c/p and place to the left by tube. Add your drop shadows!. For inside Buoy I used Paper p resized by 10. Add your mask I used Paper 10, duplicated twice.
Merge your tag. For my finished touch I added
Photo Effects - Time machine - 1950 - Cross Process and lowered Intensity to 40
For name I used Font Style Bold, duplicated the name, added a drop shadow and did Enhance Edges.
Add your Name, CR and license info and Save as PNG!
Thanks for looking!