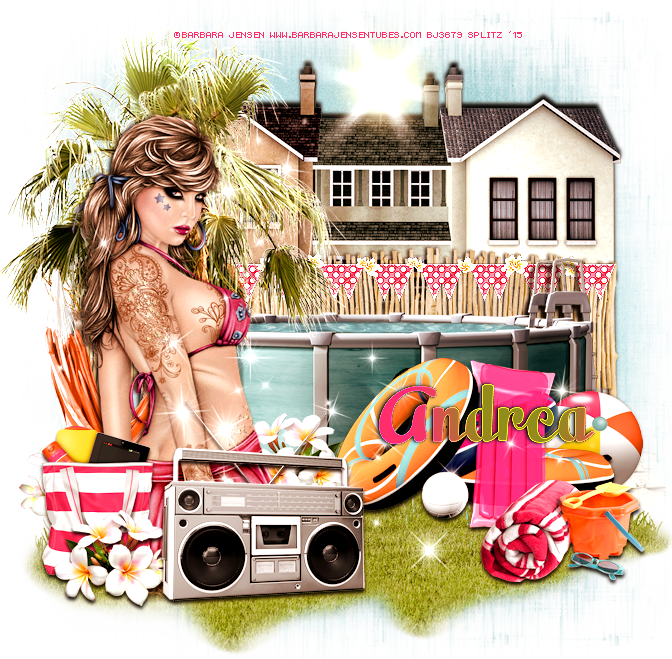 Fun Packed NEW kit by Drea's Creations named Pool Party!
Fab Art by Barbara Jensen. you need a license to use her work and you can get both
HERE
FTU Font Milky Script
Open new image 700 x 700 resize tube by 75%, c/p onto canvas and place towards left. . El 37 Tree resize by 75 c/p and place behind Tube towards left. El 30 Pool resize by 60 c/p and place towards middle of Canvas. El 61 Floaters resize by 50 c/p and place towards right by Pool. El 32 Ground resize to 80 c/p and place underneath Pool layer. Duplicate the layer, merge down. El 33 Grass resize by 60 c/p and place towards left side behind tube, duplicate layer and move towards right. El 53 BoomBox resize by 35 c/p and place in front of tube towards bottom. El 65 Bag resize by 25 c/p and place towards left behind tube. El 73 Beach ball resize by 15 c/p and place to the right behinf Floaters. El 18 Gate resize by 70 c/p andplace behind Pool but so that you can see it. El 26 Houses resize to 60 c/p and place behind Gate. El 47 Banner resize to 50 c/p and place on the border top of Gate. El 69 hammock resize to 40 Flip Horizontal, c.p and place over Tree, behind Tube, take eraser tool and erase the handles on Hammock just enough so you do not see them. El 71 Beach accessories, resize by 30 c/p and place to far right by Floaters. El 44 resize by 20 c/p andplace to the bottom far right by Tube, I dsuplicated this later 2 more times and scattered thelayers around the tag. Last I added El 88 Sparkles resized them by 80 c/p and placed on tag. Add your drop shadows Merge Visible. Add your Mask I am using Paper 14. Duplicate Mask merge Down, Duplicate gain flip vertical, move that layer a little towards bottom. El 94 Sun resize to 40 c/p and place over top of House in the middle. Merge Visible again. For the final touch I just added Photo Effect - Film and Filters - Vibrant Skin Tones - Filter Color #ddb9a5 - Density 25
I did this effect twice, second time at density 10, that was my preference, you can always play around with the settings!Cop your tag.
Add you rname, CR and License Info
ou are done!
Save as pNG!
thanks for looking!