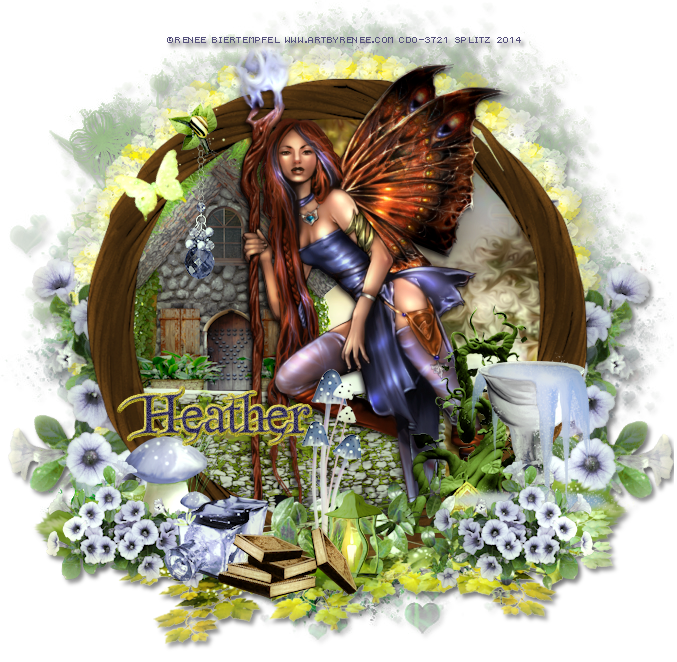 Materials
Program
PSP X4 or any other version will work
A Fabulous PTU Scrap kit by Heather's Devine Dezigns
HERE
The gorgeous art by Renee Biertempfel
You need a license to use her work and you can get that HERE
Mask
Your choice, I used a floral one by Dee
HERE
Font
FTU FairyDust
HERE
Here We Go!
Open New Image 700 x 700
(You can resize later)
Take your tube, copy & and paste onto your canvas
We will work with this in a bit.
Take Element 99 Frame, copy & paste and place in the center of your canvas behind your tube. I added a little Radiance to the frame to make it darker, it is up to you :D
Take your magic wand click inside Frame
Selections-Modify-Expand by 5
Take Paper 4
Copy and Paste onto your frame, position to your liking
Selections-Invert-Hit Delete
Take Element 5 Leaves
Copy & Paste, position at the bottom of frame
Take Element 74 copy and paste and place behind your frame
Take Element 17, Go to Image-Rotate Left-Free Rotate 25.0 and you will place them in the background to the left, Layers Palette, right click Duplicate and place on other side. NOW take same element and
resize to 50
Copy & Paste to one side in front of your frame. On your Layers palette, right click Duplicate
Image-Flip Horizontal and place it on the other side of frame
Take Element 80 Mushrooms resize to 40 and place at the bottom of your frame position to your liking.
Take Element 40 resize to 80, Copy & Paste right in the bottom middle of the frame
Take Element 24, Resize to 40, Copy & Paste and place in front of the mushroom
Take Element 4 Resize to 30
Copy & Paste and place right next to the books
Take Element 22 Wall and copy and past inside the frame and place it low to the left. Using your Eraser tool, erase any excess that is overlapping the frame.
Take Element 12 House, Resize to 60 Copy & Paste and place right behind Wall.
Take Element 6 Resize to 30 and place on the right side bottom.
Lets go to your tube. We want to make it look like her knee is resting on the wall. So lets position your tube that way (See my tag for reference) then
we are going to Layers Palette, find your tube layer
Right click Duplicate. Move the tube copy behind frame.
If your happy with it you will take your eraser tool and go to your original tube layer and eras any excess tube that is showing outside the frame. Add a slight drop shadow.
Take Element 78, reside to 40 copy and paste at the bottom of the frame.
I wanted to add Element 24 the overflowing fountain also, I think it is so pretty!
Once you are happy with your beautiful creation you can Merge your tag!
Lets add our Mask
Layers, New Layer
Go to layer palette bring that new layer to the bottom. Take your Magic Wand, click on your background. I chose Paper 8 so lets copy & paste that.
Go Layers - New Mask - From Image and choose your mask choice. Layers-Merge Group.
I blasted my Merged tag with Porclain but as always you can play around with the filters and I also added a slight drop shadow!~
You are Done!
**Do not forget to add your Name, Copywrite, and License information**
Save your tag as PNG!
Thank you for trying my tut!. I would love to see anything you make!